Tagaytay City, Philippines – The University of the Philippines Manila National Telehealth Center organized a four-day RxBox Training Program for the recipient municipalities of the latest version of the RxBox. Four representatives each from the municipalities of Dingalan Aurora, Lubang Occidental Mindoro, Sto. Domingo Nueva Ecija, and Quezon Quezon, participated in the training which was held in the Development Academy of the Philippines Convention Center in Tagaytay City.
In line with the Department of Science and Technology's efforts for a Smarter Philippines and in support of the Department of Health's call for Kalusugang Pangkalahatan, the RxBox is a biomedical telemedicine device designed to provide better access to life-saving health care services in geographically isolated and disadvantaged areas (GIDAs) nationwide. It can capture physiologic signals with its built-in sensors (i.e. blood pressure monitor, pulse oxymeter, ECG, fetal heart monitor and maternal tocometer, and additionally a temperature sensor), store these data in an electronic medical record (CHITS – Community Health Information Tracking System), and transmit the information via internet to clinical specialists in the Philippine General Hospital through the National Telehealth Service Program (NTSP). By reducing unnecessary out-of-pocket expenditure and enhancing productivity, the RxBox program helps health workers make smarter diagnosis and smarter patient care.
During the four-day training conducted from April 8 to 11, 2014, the participants engaged in lectures, discussions, games and hands-on activities about eHealth and telemedicine.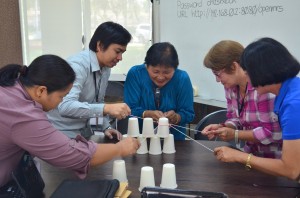 The participants played the Cup Game which illustrates various aspects of the Philippine health information system and instills the values of data quality and team work. 
Part of the RxBox Program is CHITS – an electronic medical record system specially designed fo ruse of public health workers. The health workers were excited at the possibility of having a completely paperless RHU through CHITS.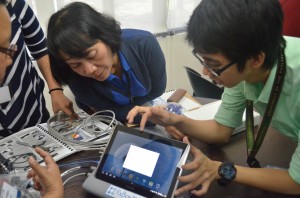 Awe and excitement filled the room when the RxBox device was finally unveiled. On touching this new version of the device – lighter, more compact and with a tablet as its main interface – the health workers were delighted by this locally-produced device developed by the UPM – NTHC with the Electrical and Electronics Engineering Institute of UP Diliman.
It was expected that some of the new users had difficulty in using the technology for the first time. Nevertheless, they expressed their excitement and willingness to implement the program. "Frequent practice makes perfect," Myrna Samatra, a public health nurse from Sto. Domingo, said.
At the end of the training, all the participants went home with smiles in their faces. Not only did they learn a new technology, but also a new way of thinking. With the words of Dr. Brent Viray of Dingalan, "with RxBox, we can go an extra mile. Not only a mile, but a thousand miles."
As of now, 25 municipalities including the 4 new volunteers are using the RxBox in their rural health units and lying-in clinics.