RxBox partakes in the 2014 National Science and Technology Week
August 11, 2014 4:57 pm | by Henri Joshua Igna, RN | Posted in News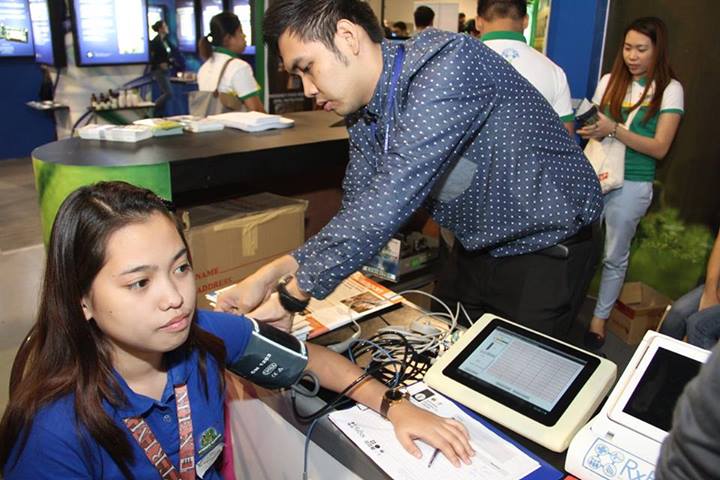 A student had her blood pressure taken using the RxBox. Photo by DOST.
Joining the ranks with other innovations in the scientific community, the RxBox was one of the featured interactive exhibits in the Department of Science and Technology's (DOST) 2014 National Science and Technology Week celebration at the SMX Convention Center, Mall of Asia Complex in Pasay City with the theme, "Philippines: A Science Nation Meeting Global Challenges."
The five-day event that started last July 24, 2014 commenced with the presence of the Senate Committee on Science and Technology Chairperson Sen. Ralph G. Recto, and DOST Secretary Mario G. Montejo as they enjoin the bright minds of the scientific community, as well as government officials, to invest more on Science and Technology research. Sen. Recto and Sec. Montejo also identified the 8 outcomes that the department's initiatives target. These outcomes are agriculture, enterprise development, industry, IT-BPM, government connectivity, health, education, and disaster preparedness. In his speech, Sec. Montejo mentioned the RxBox as one of the ICT solutions for the health outcome.
Visitors, including health care professionals, government officials and students, had their blood pressures and pulse rates checked with the RxBox using two of its six built-in medical sensors. Even participants from the previous days' 9th Knowledge Exchange Conference (See article here), expressed their excitement and interest over the device together with its electronic medical record – Community Health Information Tracking System (CHITS) – and telemedicine feature. Likewise, A Wi-Fi repeater from DOST-ICTO's TV White Space 'Super Wi-Fi' (See article here: "RxBox enters Bohol with "Super WiFi"") displayed at the exhibit provided a 7 MBPS connection for CHITS and RxBox, sparking amazement within the crowd.
To date, the RxBox is deployed to 36 health facilities all over the Philippines from Sabtang, Batanes to Languyan, Tawi-Tawi.