During the past weeks, "telemedicine" has been the focus of a lot of our news and updates. Just a month ago, lone district of Biliran representative Rogelio J. Espina proposed the  House Bill 4199, also called "the Telehealth Act of 2014″, which was heard at the house of representatives committee on health last January 28, 2015. This sparked meetings and discussions on what to expect in the next steps for telemedicine in the Philippines.
But the question by most Filipinos remain the same: What is telemedicine?
Telemedicine came from two words: tele-, meaning "to or at a distance", and -medicine. Simply put, it is the "use of medical information exchanged from one site to another via electronic communications to improve a patient's clinical health status", according to the American Telemedicine Association. This includes formulating diagnosis and decision on treatment based on the data and health information transmitted via telecommunications system. A growing variety of applications and services are being used nowadays such as SMS, smart phones, two-way video conferencing and email.
The archipelagic nature of the Philippines results to a disparity in the access to quality health care especially in geographically isolated and disadvantaged areas (GIDA's). Recognizing the potential of using ICT innovations in improving the health care delivery in the country, NTHC developed the National Telehealth Service Program. This supports the Doctor-to-the-Barrios program of the Department of Health, where doctors are assigned to rural and hard-to-reach municipalities.  With telemedicine in NTSP, trained doctors can perform tele-consultations through SMS or Email with clinical specialists in the Philippine General Hospital and other telehealth centers. This reduces unnecessary travels and hospitalizations, lessening the cost of healthcare for Filipinos!
How does it work?
The infographic below illustrates the exchange of information in a typical teleconsultation from the referring physician at the rural health unit to the clinical specialist in a partner tertiary health facility such as the Philippine General Hospital. At present, there are 412 municipal health centers benefiting from this telemedicine service.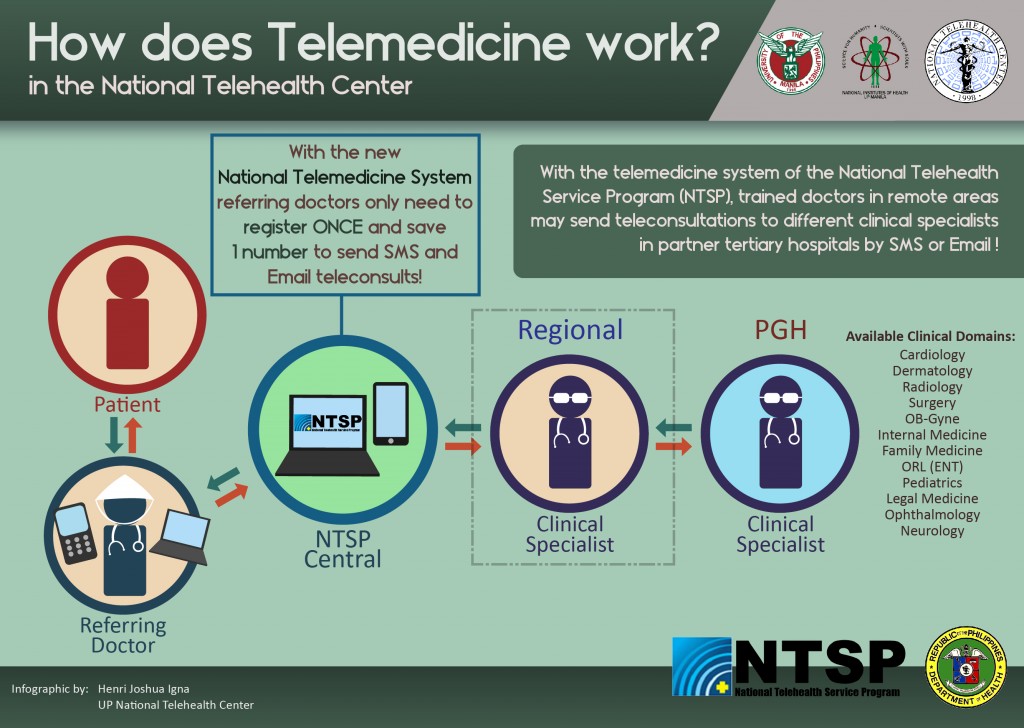 For more information on NTSP, click HERE.