Every Filipino deserves quality health care. However, a number of reasons hinder access to these services. For an instance, the geographic nature of Philippine islands hinders people's immediate access to medicines and supplies. Many still spend a lot on health care being provided in government facilities and the increase of health workers migrating abroad for better work opportunities caused lack of competent and skilled human resources in hospitals and clinics. Mobile phones are commonly used Information and Communications Technologies (ICT) along with computers and the Internet. They are not just tools for connecting with people but are found to be potent for improving health care. In 2010, the Aquino Health Agenda underscored ICTs as one of the six strategic instruments to ensure Kalusugan Pangkalahatan (Universal Health Care). Along this, better health information management and human resources for health are identified as two key areas.
NTSP as a Tool for Good Governance on health
Telemedicine is the practice of medicine over a distance where interventions, diagnosis, and treatment decisions are based on documents, and other information transmitted through telecommunication systems.
The National Telehealth Service Program (NTSP), a joint project of the Department of Health and the National Telehealth Center, is a 5-year program aimed at expanding Telemedicine in 4th to 6th class municipalities nationwide. NTSP facilitates consults between primary care physicians in geographically isolated and disadvantaged areas (GIDA) and clinical specialists of the Philippine General Hospital (PGH) using a mobile and internet-based interface and triaging system. Along this is the development of R4Health as a mechanism to collect routine health data of selected maternal and child deaths to monitor health service delivery.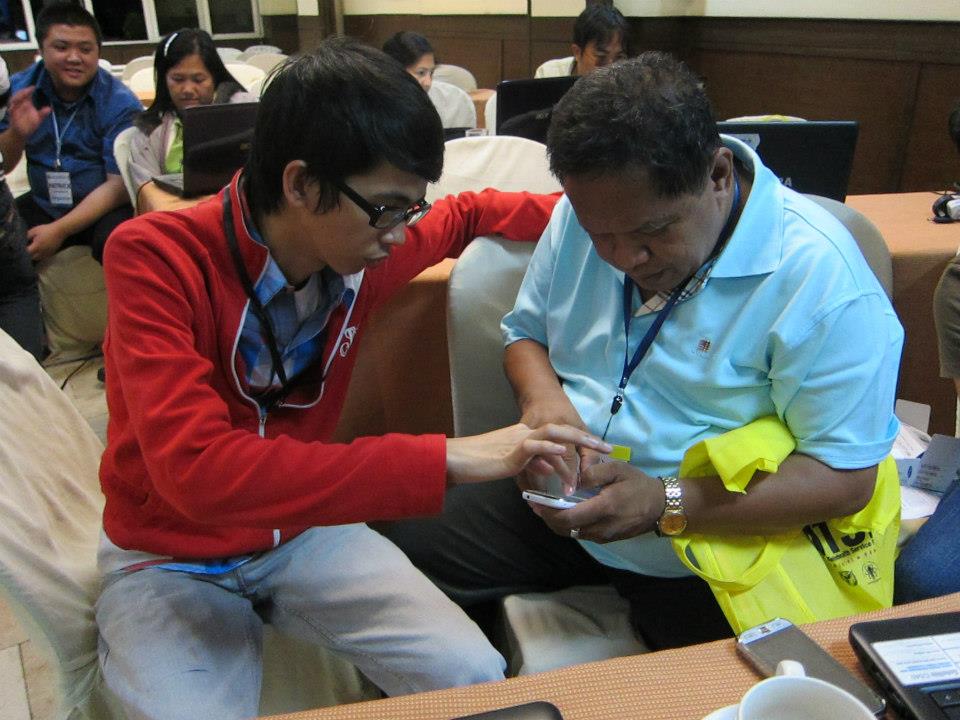 Emmanuel Pajarillaga, NTHC eHealth Nurse, teaches a doctor on how tap use a smartphone's screen for activating controls on the phone.
With Telemedicine, remote communities will have access to services of clinical specialists in their region and to that of the Philippine General Hospitals. Health data reported through R4Health in real time will help decision makers manage resources, allocate funds, plan and budget investments on health which hopefully, would translate to better health for Filipinos. To date, telehealth services have been offered to more than 350 doctors to the barrios (DTTBs) and municipal health officers through various government initiatives including the current Department of Health (DOH) – funded National Telehealth Service Program (NTSP) (Cruz and Fernandez-Marcelo, 2011 and 2012).
Below is an infographic about the National Telehealth Service Program: